Volunteer – Share Your Time & Expertise
Committees
We have many fundraisers and the reason they are so successful, is because we have amazing committee volunteers throughout the course of a year for you to participate in.  It's even more fun when you bring a friend!
Send an email to info@movementcentre.ca if you are interested in volunteering or would like more information. Be sure to visit our events page to learn more about upcoming opportunities!
Fundraising Opportunities
The Movement Centre currently provides fundraisers from Mom's Pantry and Lacoste Garden Centre to assist our clients in raising funds to offset their fees.
Forms will be available below or at our centre if we are currently holding one of these fundraisers. Just put the clients name on the form in the 'sellers' box and they will receive a percentage of the proceeds…leave it blank to support The Movement Centre directly!
Be sure to include your contact info so we can tell you when the order is ready for pick-up!
Lacoste Spring Fundraiser is happening NOW!
10″ Hanging baskets, gift cards, or vouchers.
Order deadline is May 9th at 3:30 PM (no exceptions).
Pick up date is Friday, May 25th at The Movement Centre, from 1:30 pm – 3:30 pm.
Information Form HERE
Sellers Form HERE
Contact Justin or Tamara at The Movement Centre if you have any questions! 204-489-2679
Have a Third Party Fundraiser
Do you hold a weekly, monthly, or yearly event with proceeds designated to a charity? Pick us! Click here to be directed to our Application for Special Event.
Give us a call to find out more information or to book a tour of our facility!
Legacy Giving
Click HERE to visit our Legacy page and learn how you can support The Movement Centre of Manitoba with Legacy Giving.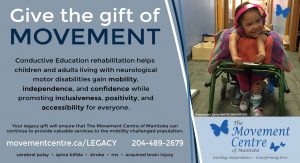 Purchase Movement Centre Merchandise
"The Butterfly reminds us how powerful personal and physical transformations can be.
Through Conductive Education Rehabilitation, The Movement Centre teaches children and adults living with physical disabilities independence for a better quality of life.
The proceeds from the sale of each hand crafted butterfly will support The Movement Centre.
The proceeds from the sale of each hand crafted, sterling silver butterfly will support The Movement Centre in their efforts to provide this valuable service to our community."
Sterling Silver Butterfly  – $40
10 Karat Upcycled Yellow Gold  on a Yellow Gold Chain – $140
The Movement Centre "Butterfly" necklace was designed by Winnipeg's Hilary Druxman. Silver necklaces are available at The Movement Centre. Both necklaces are available at Hilary Druxman Jeweler locations and online! Proceeds from Butterfly necklaces sold by Hilary Druxman Jewelers also benefit The Movement Centre of Manitoba.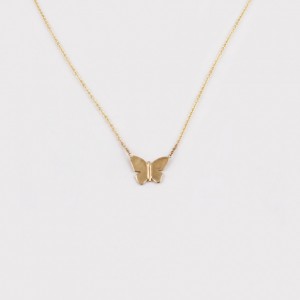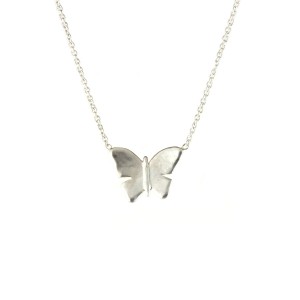 Things to Donate
Make a Donation
Collect Air Miles for the Centre, just use our Air Miles Number – 8006 765 9940
Direct your United Way contribution to The Movement Centre of Manitoba by indicating our name, address, and charitable tax number – 86799 9898 RR0001
Prizes! We have many fundraisers throughout the year where silent/rainbow auction packages are available and we are always in need of great items to include!
Your time! Volunteer for our Annual Golf Tournament & Auction, make a team for the Move N' Groove-a-Thon, or get involved in any of our many other events!
Wish List
We could always use a few things around our Centre, check out our list below!
Gift cards for anywhere

* Can be used for various supplies/equipment or prize packages for fundraisers

Building Blocks
Children and Adult Games

* Operation, Crocodile Dentist, Connect 4, Snakes & Ladders, etc. 

Musical Interactive Toys

* For Children

Cutlery (especially forks)
Storage bins
Portable bluetooth speaker
iPad's for Classrooms
Phillips Hue Smart LED Light bulbs
Craft Supplies 

* Construction Paper, Crayons, Markers, Googly Eyes, etc.

Office Supplies/Equipment

*  Whiteboards, Printer Paper, Envelopes, Tape, etc.

Cleaning Supplies

* Norwex Cleaning Supplies, General Supplies (We like to use environmentally friendly products!)
Please contact us if you have any other ideas or questions!
Spread the Word
It's simple, tell your friends, coworkers, and community about us.
Like us on Facebook Follow us on Twitter Follow us on Instagram Subscribe to us on YouTube
Share "Our Story"