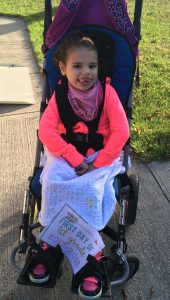 This is Gracie. Gracie is one of our "outside of the box" clients. When Conductive Education rehabilitation was founded by Dr. Andras Petos in 1948, he had been working with children with cerebral palsy. Since then, it's been proven that Conductive Education rehabilitation can help so many more individuals with different neurological motor disorders. Gracie was diagnosed with CDKL5, a rare genetic disorder, and came to The Movement Centre in 2013.
Her mom and dad, Sara and Anthony, wanted Gracie to be able to have more independence. Although Gracie could roll over and sit with assistance, her mom and dad knew she could accomplish more. And they were right…
Within a few months, she was able to sit independently and use her hands for balance! Gracie's progress has continued exponentially since then!
Gracie is an amazing 6 year old – since she reached her first goal of using her hands more, she's learned to grasp a spoon and bring it to her mouth, as well as hold a cup independently. This ishuge for Gracie, but for mom and dad too! Gracie's ability to feed herself has brought about a level of independence for her that her mom Sara is extremely grateful for. Sara says without The Movement Centre and Conductive Education rehabilitation, Gracie wouldn't have the level of independence that she has.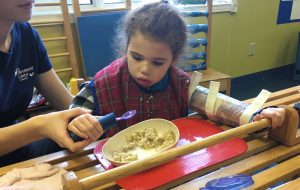 In the three years that Gracie has been coming to The Movement Centre, she has accomplished many goals, including learning to stand, and walk in a walker with assistance through Conductive Education rehabilitation! One of the goals Gracie and her parents have now is toileting, and Gracie is already well on he way to achieving that milestone as well!
Gracie's expressive big brown eyes will melt your heart! When she comes to The Movement Centre for her classes it's impossible not to smile into those eyes! Your support makes it possible for children like Gracie to continue to strive for independence, confidence, and mobility through Conductive Education rehabilitation.