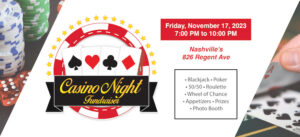 Movement Centre Casino Night
Join us for an unforgettable evening at the Movement Centre Casino Night! Get ready to roll the dice, try your luck, and have a blast with friends and family. This in-person event will take place on Friday, November 17, 2023 at Nashville's – CanadInns on Regent..
Experience the thrill of a real casino with a variety of exciting games, including poker, blackjack, roulette, and more. Whether you're a seasoned pro or a beginner, our friendly dealers will guide you through the games and ensure a fun-filled night for all.
As you enjoy the lively atmosphere, take a moment to learn about the incredible work of the Movement Centre. This event supports their mission of providing innovative therapies for children and adults with physical disabilities, helping them achieve greater independence and mobility.
So, mark your calendars and get ready for an evening of excitement, entertainment, and giving back. Join us at the Movement Centre Casino Night and let the good times roll!
Thank you to our sponsors: