---
ADMINISTRATIVE TEAM


Olivia Doerksen is the Executive Director at the Movement Centre of Manitoba, and Directory of Advocacy for the Association for Conductive Education in North America (ACENA). A believer in life-long learning, Olivia graduated from Red River College from the Business Administration – Accounting (Honours) program and periodically takes courses of interest through the University of Manitoba and Laurentian University to fulfill her curiosity and expand her knowledge base. Doerksen is currently pursuing her MBA through Royal Roads University.
Olivia's passionate about advocating for those in need and individuals living with physical disabilities, as she has her whole life for her Mother and Grandfather who both live with Multiple Sclerosis.
Doerksen has received many awards and distinctions including being the top recipient of the Enterprising Women's Award (Red River College), PEO Foundation Award (mission of the PEO Foundation is to empower women in business) and several other bursaries & scholarships in recognition for academic achievement, exemplary leadership and model "all-round" citizen.
Olivia resides just outside of Winnipeg by Birds Hill Park. She's a country kid at heart and enjoys her yard, outdoor adventures and loves spending time with friends and family.
---
Tanya Joss – Manager of HR & Marketing
Tanya Joss is the HR and Marketing Manager at the Movement Centre of Manitoba. Tanya graduated from Herzing College in 2002 with her Computer Network Technology diploma, spent 2 years in the IT industry and as Tanya would say, "discovered IT epitomizes insanity" and that it definitely wasn't the career for her. Since then she got married and had a couple of cute kids, worked as an office manager in a web-based start up company, an assistant for the Manitoba Association of Optometrists and an assistant at Mayberry Fine Art, before finding her way to the Movement Centre. She feels passionate about doing her part to make a difference in the lives of individuals with disabilities. She considers herself a generalist, but has recently decided to pursue her Human Resources Management Diploma part time through the University of Winnipeg.
Tanya likes to have fun and make people laugh (even at her own expense), loves playing boardgames and spending time with her husband, two beautiful daughters, dog, friends, and Netflix, and is (un)ashamedly a True Crime fan.
---
Justin graduated from Red River College in 2013 with a major in marketing. Following that, he began working for the Movement Centre in a temporary capacity which quickly grew to a permanent position as the administrative team expanded. His current role is focused on accounting, grants, and administrative work. Problem solving, feeling the impact and importance of his work, and the can-do atmosphere at the Centre is what keeps his driven and as he says, "has me hooked in". Outside of work, Justin enjoys fishing, graphic novels, gaming, and getting out of town during the summer months.
---
PROGRAM TEAM
What is a Conductor?
A conductor in this context are individuals who are designated and specialize in Conductive Education. The conductors are supported by conductive education assistants, who work one to one with our clients in class and are kind, friendly, understanding, and very knowledgeable.
Christopher began working at the Movement Centre as an assistant in the spring of 2009. He quickly realized that this was the career he would like to pursue and moved to England the following year to study conductive education. While in university Chris would return to The Movement Center to work during the summer intensive camps. In 2013 Christopher returned home to Winnipeg and began his full time position as a conductor. When not working at the center, Chris enjoys cycling, camping and collecting records.
"The intense work of the clients and their dedication to their goals continues to inspire me on a daily basis. I'm so proud to be working as a part of the team at the Movement Centre."

---
What is an Occupational Therapist?
Occupational Therapists are health care professionals concerned with promoting health and quality of life by enabling participation in occupations and daily activities. Occupational Therapists provide different forms of physical, cognitive, social, and emotional interventions that facilitate change or growth areas that may interfere with someone's ability to do everyday things that are important to them. Such as:
Self-care
Productivity in school, work & community
Leisure activities
Lacey started working at the Movement Centre as an assistant in 2012 with plans to apply to Occupational Therapy, but it wasn't long before she had fallen in love with Conductive Education and the group program environment that she wasn't in such a rush to go back to school. "Building relationships with clients and their families is the a most wonderful part of my job! What I love about Conductive Education is that we are able to build off of personal connections, trust and shared experiences among all clients and staff in the group in order to motivate and support someone as they work to achieve a goal or participate meaningfully, both in class and in their community." Five years later, Lacey pursued a Master of Occupational Therapy and now she feels so fortunate to have found her dream job as an OT in a CE setting. Lacey is passionate about using her education and experience to blend these two complimentary disciplines in hopes of creating more opportunities for clients of the Movement Centre to participate fully in any aspect of life. A favourite pastime for Lacey is taking her dog to the park or playing fetch in the yard where she can supervise the cat! Lacey plays rugby, and enjoys going camping, hiking, snowboarding.
---
Conductive Education Assistants (CEA)
Joey Potter, Senior CEA
Joey is our senior conductive education assistant at the Movement Centre of Manitoba and has the longest career in conductive education in Manitoba.  Joey graduated from the Lord Selkirk Regional Comprehensive High school with honours in 1994 then completed his bachelor of science with a major in physics from the University of Manitoba in 2001.  Joey then went into the education field where, because of a friend, he stumbled upon the programs at the Movement Centre in the summer of 2003.  He began training in CE that summer and has never looked back.
Joey's greatest passions have been playing and coaching rugby, nutrition and the many ideologies that exist when choosing food and Crossfit. "I met my brilliant wife at the Centre, conductor QCS Gemma Davy, got married in 2008 and now have 3 wonderful children, Leiella, Alexander and Mckenzie. I've had a blessed life and having a career where every morning I fly out of bed ready to meet the challenge of helping some dedicated clients meet some very difficult goals has only made it better.  I haven't just worked at the Centre, I have also made many, many wonderful lifelong friends here as well.  This place has always been a second home to me!"
---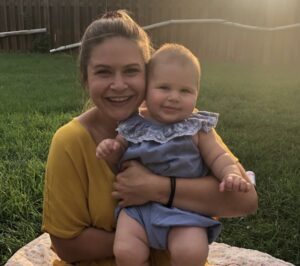 Chelsea Walker, CEA & Fundraising Coordinator
Chelsea has been at the Movement Centre for over 9 years. She was originally just looking for a summer job while she was in university but after two months of summer camps at the centre, she knew that "This was where I was supposed to be. I loved being a part of something so unique, the family atmosphere and watching the clients do the impossible!" After a few years of seeing the magic of the Movement Centre, she started helping out with fundraising events and took a liking to that side of the organization as well.
Outside of work and as a new mama, Chelsea spends most of her time with family, adventuring the outdoors, whether at the lake or finding new places to take her pup, Ellie, for walks.
---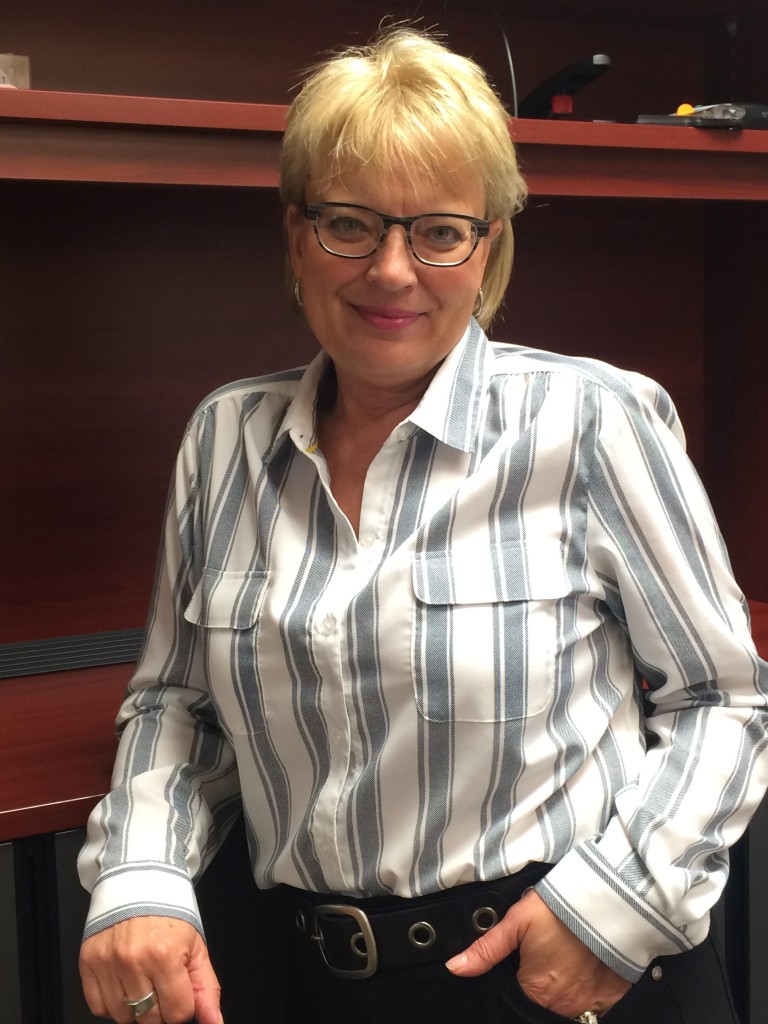 Margy Nelson (B. Ed.) – Founder
Margy Nelson has worn many "hats" in her professional life; business woman and then elementary and junior high teacher, – but according to her – the "hat" that is most near and dear to her heart is in the role of Executive Director and Co-Founder of The Movement Centre of Manitoba.
Back in January, 1989, Margy & husband John, gave birth to premature twins Bryce and Sean.  Being born 12 weeks early, first-born son Bryce was quickly diagnosed with having cerebral palsy; Sean escaped complications.  Years later, in the summer of 1997, Margy took her son, Bryce, out East, to a center offering a unique program called Conductive Education.  As an educator at the time, Margy was enthralled that Conductive Education is an "educational" approach to motor movement; it's a program that teaches daily-living skills – designed to increase independence.   Margy and Bryce were away from home for 5 weeks, and had spent in excess of $7,000.00 for treatment and traveling expenses.
Margy quickly realized that there was a need for Conductive Education in Manitoba; in fact, there were numerous needs to be addressed.  There was a need to assist all those living with a mobility challenge by providing them with Conductive Education; a need to assist all family members, by providing the necessary "tools" to their loved one – thereby potentially increasing some level of independence, and easing some of the pressures placed on the family.
When creating The Movement Centre, Margy approached two other mothers of children who had cerebral palsy – to help her create a non-profit charitable organization which would provide Conductive Education rehabilitation at a fee that would be affordable to all. "The Movement Centre of Manitoba" was incorporated in December, 1997 and immediately received its registered charitable status.