Back to Move 'N Groove main page
CTV Morning Live – May 1, 2017
Margy Nelson talks The Movement Centre, Move 'N Groove, and Conductive Education
Winnipeg Free Press Community Profile, 2017
Read about Move 'N Groove in the Winnipeg Free Press Community Profile! Featuring pictures and details from 2017
Community Profile for Move 'N Groove 2017
 2017 PSA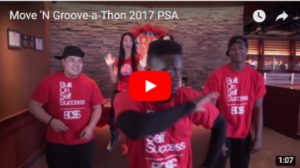 ---
Winnipeg Free Press Community Profile
Read about Move 'N Groove in the Winnipeg Free Press Community Profile! Featuring pictures and details from 2016, and information on how to register for this year!!
UM Today
A great article about the Beyond Abilities Move 'N Groove team and the University of Manitoba talking about accessibility and inclusiveness for students with disabilities!
http://news.umanitoba.ca/getting-their-groove-on/
CTV Morning Live – April 11th, 2016
Move 'N Groove & The Movement Centre of Manitoba
Check out the 2016 Move 'N Groove-a-Thon PSA!
---
2015 Move 'N Groove-a-Thon PSA
View our 2012 TV Public Service Announcement!
Special thanks to: Media 1 Productions & Midcan Production Services
View our 2011 Public Service Announcement!
March 6, 2012: Margy Nelson, Executive Director of The Movement Centre
speaks with QX104 FM about Move 'N Groove-a-Thon 2012!
Click Here to Listen!
Additional Media Coverage
Tracy Koga of Shaw TV Interview
Back to Move 'N Groove main page